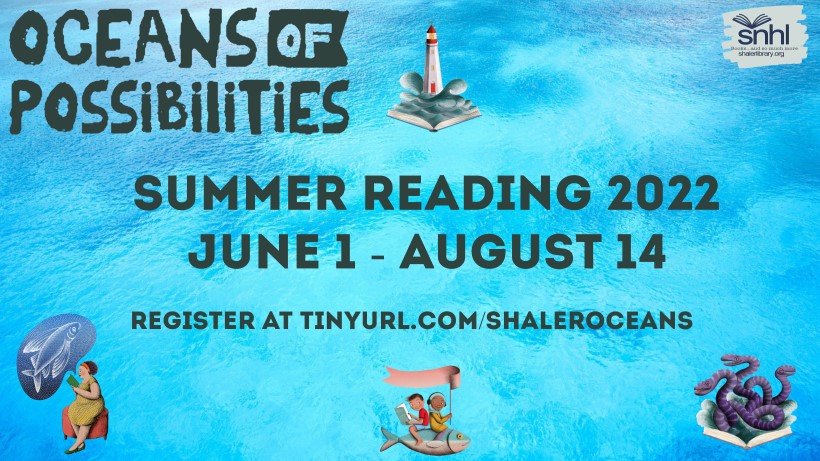 This summer, there are OCEANS of possibilities for reading fun! Whatever your age or reading style, we celebrate all things reading with our reading programs (Adults, Teens, Kids) and all our other programs! Read what you love, find a new favorite, enter to win prizes. Begins June 1!
Please REGISTER HERE with us for the summer!
Go HERE when you are ready to enter your reading!
Kids & Teens! There's way too much fun happening to list it all here. Jump on over to this webpage (or grab a flyer at the desk) for all the details. We're so excited to see you! https://www.shalerlibrarykids.org/
Hiking at Fawcett Field, Mondays, 6:30pm (all ages)
Stories in Your Neighborhood, June 7 through August 11
Saturday Teen Programs, June 18, July 16, August 6
And tons of kids' programs all week long!
Adults! For each book you read or listen to, or any 10 books you read to a child, enter one slip. You can ENTER YOUR READING HERE or on paper at the Library. Each entry is a chance to win one of our weekly prizes. All entries remain in play throughout the summer. Each Monday we will draw and contact the winner from the previous week.
Prizes include passes to the Children's Museum; Heinz History Center; Cinemark North; Fun Fore All, Pittsburgh Zoo & PPG Aquarium—and more to come! Thanks to our supporters and sponsors!
Thanks to the Friends of SNHL for sponsoring our summer programs. Join The Friends today!
---
Even More Fun! Mark Your Calendars for…
Food Truck Fridays, 11:00am to 1:00pm
FREE Passes to Area Attractions (ask at the Reference Desk)
Fall Run Art Exhibit (all through the month of June)
Paint by Numbers Night for Adults, July 22, 7:00pm
Ice Cream Social, August 2, 6:30pm
Pool Party at Crawford Pool, August 17, 6:00pm
Sense & Sound Poetry, August 30, 6:30pm