Brought to you by the Allegheny County District Attorney's office.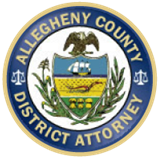 Last year in Allegheny County, over 12,000 people lost nearly $8 million dollars from various scams. A thief can come at you in many ways: by phone, mail, at your door, and on the Internet.
Come hear helpful advice from Senior Advocate Joseph Giuffre to keep yourself from becoming a victim.
Learn about the "Fraud Squad" and how you can help your community be aware of fraud in your area.
Free materials will be available. PLEASE REGISTER HERE.
About the presenter:
Joseph Giuffre is a Senior Advocate with the Allegheny County District Attorney's Office. Giuffre assists older adults to help prevent elder abuse, and support senior victims of fraud, abuse and neglect. Contact Joe at 412-427-3770 or joeatda@gmail.com.