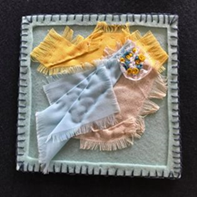 This informative workshop will Introduce participants to Meditative Hand-Stitching enjoyed by thousands worldwide. The session will define Meditative Hand-Stitching, present its history, explain benefits, show examples, and discuss how to get started in this mindfully based creative practice. Participants will become familiar with the tools, materials, supplies, and resources and have an opportunity to create a project of their own!
Adults & teens are welcome. REGISTRATION REQUIRED. Limit of 12 participants.
No sewing or embroidery experience is required! Participants are recommended to bring a few small pieces of fabric, your own needles (sewing and embroidery), sewing thread, embroidery floss, a needle threader, and small scissors. Some additional fabric swatches will be provided. Water or drinks with lids welcome.
Friday, September 30, 1:00-2:30pm: REGISTER HERE
Wednesday, October 5, 6:00-7:30pm: REGISTER HERE