It's here! That time of year when you share your love of your library with us. All the ways you contribute MATTER! Buy a raffle ticket, donate for a book, come to a program, make a financial donation. Any and all donations made in September receive a partial match from the Jack Buncher Foundation. We are always so appreciative of the generosity of our community. Please take a look at all the opportunities where you can make a difference.
Want to help? Read more in this letter from the Library Director.
Grab a Yard Sign to display proudly.
Purchase a few raffle tickets to win some gorgeous prize baskets! Only $1.00 or 6 for $5.00!
Buy a heart for just $1.00 to display at the Library and show your support. Or buy 2 and put one in your window at home! Display one at work too!
Purchase a LYL pin, LYL canvas tote bag, window cling, or Friends bag to proudly show your support!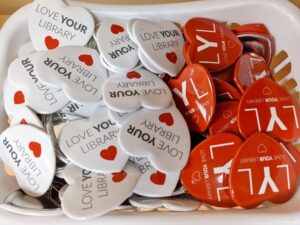 Donate to cover the cost of a new hardback book (around $30.00).
Buy a beautiful hand-decorated cookie from Ruckus Coffee & Cafe. Grab a specially-wrapped candy bar too!
Guess how many "runts" are in the jar!
Adopt a magazine subscription for a year. Ask us to see the list of available titles.
Honor a loved one or celebrate an event with a Memorial/Honor Book purchase. Each book will receive a personalized book plate.
---
Make a donation in any way–drop a few coins in the donation bin, send us a check in the mail, donate by Credit Card through our Paypal account. (Click on the yellow button below.)