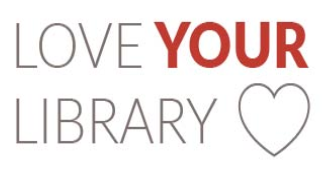 September is Love Your Library Month! Libraries receive a pro-rated match from the Jack Buncher Foundation for all donations received during the month. But that doesn't mean we can't have fun while we FUNdraise! Check out the upcoming events sure to satisfy the book lover, trivia lover, fun lover, library lover in YOU! Shop our mini 'Odds and Ends Sale' in the Large Print Room September 1–9. And…
Buy a raffle ticket for chances to win great prizes! Lottery Cards, Gift Cards, Family Game Night Package, Carnegie Museums Family Membership, and MORE!
Adopt-a-magazine or author
Contribute to our annual appeal
Make a direct Charitable Giving donation from your IRA
Attend one of our fundraisers this month
Buy some LYL swag or put up a yard sign
Donate your gently used puzzles and books
A gift to the library this month goes further….and goes right back into the programs, services and facility you know and love! Thank you!
Purchase a LYL pin, LYL tote bag, LYL lanyard, window cling, or more to proudly show your support!
Donate to cover the cost of a new hardback book (around $30.00).
Guess how many puzzle pieces are in the jar or take home a puzzle heart to make (upstairs Display Case).
Adopt a magazine subscription for a year. Ask us to see the list of available titles.
Honor a loved one or celebrate an event with a Memorial/Honor Book purchase. Each book will receive a personalized book plate.
---
Make a donation in any way–drop a few coins in the donation bin, send us a check in the mail, donate by Credit Card through our Paypal account. (Click on the yellow button below.)