These are a few of my favorite things…
The streetcar, or "trolley," played a vital role in the growth of 20th century American cities. Let the artifacts do the storytelling as a representative showcases a few remarkable relics from the museum's rich collection. Through these unique objects, you will learn more about how our thriving suburban communities owe their existence to the streetcar!
April 6, 5:00pm. This program presented via Zoom.
PLEASE REGISTER FOR THIS PROGRAM HERE.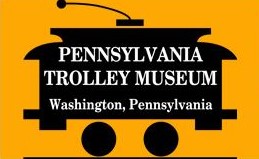 About the PA Trolley Museum:
The Pennsylvania Trolley Museum came to Washington County in February 1954 with three trolleys and a dream that was born in 1941. Today, the Pennsylvania Trolley Museum owns nearly 50 street and electric railway cars, 20 of which are operational on the museum's four-mile ride. Each year over 30,000 visitors are treated to a hands-on, moving history lesson.
This virtual program is part of a series promoting the Experience Kits initiative at select Allegheny & Washington County Libraries.