These are a few of my favorite things…
Get a taste of what you might discover on the Lincoln Highway (psst: it probably tastes a bit like pie!). Join a representative from the Lincoln Highway Experience as she showcases a few outstanding objects from their collection and experience actual artifacts from transportation history!
March 9, 5:00pm. This program presented via Zoom.
PLEASE REGISTER FOR THIS PROGRAM HERE.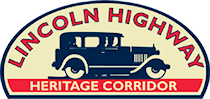 About the Lincoln Highway Experience
Discover 100+ years of Lincoln Highway history at the largest museum in America dedicated to sharing the story of the first coast-to-coast highway. Located on the Lincoln Highway between Latrobe and Ligonier, PA in the beautiful Laurel Highlands, the Lincoln Highway Experience exhibits authentic and meticulously restored 1930s Lincoln Highway artifacts. This delightful museum offers a slice of pie, a cup of joe, and a fun place for you to go!
Don't miss these upcoming Museum Lectures:
This virtual program is part of a series promoting the Experience Kits initiative at select Allegheny & Washington County Libraries.