From May 8: "Today Governor Tom Wolf announced 13 Pennsylvania counties will move to the yellow phase of reopening at 12:01 a.m. on Friday, May 15. Those counties include Allegheny, Armstrong, Bedford, Blair, Butler, Cambria, Fayette, Fulton, Greene, Indiana, Somerset, Washington and Westmoreland.
On May 1, the governor announced the 24 counties moving into the yellow phase of reopening beginning today. And, last evening, he and Secretary of Health Dr. Rachel Levine signed new orders – one for yellow phase reopening and one to extend the red phase counties' stay-at-home order, which was set to expire last night, to June 4. The red phase stay-at-home order extension does not mean that other counties won't move to the yellow phase in advance of June 4." Source: https://www.governor.pa.gov/newsroom/gov-wolf-announces-13-counties-will-move-to-yellow-phase-of-reopening-on-may-15/
---
Health and Safety Information
---
Government Connections
For the most up-to-date PA Government news, follow Senator Lindsey Williams or Representative Lori Mizgorski or Governor Wolf on Facebook.
PA Governor Tom Wolf
CLICK HERE for the Governor's Facebook page.
Website https://www.governor.pa.gov/
State Senator Lindsey Williams
Website: senatorlindseywilliams.com Office: 412-364-0469
State Representative Lori Mizgorski
Website: http://www.repmizgorski.com/ Office: 412-487-6605
Shaler Township
Website: https://www.shaler.org/ Office: 412-486-9700
Shaler Area School District
Visit HERE for information for kids and families.
---
Community Assistance
United Way of Southwest PA
Call 211 or CLICK HERE
Shaler Food Establishments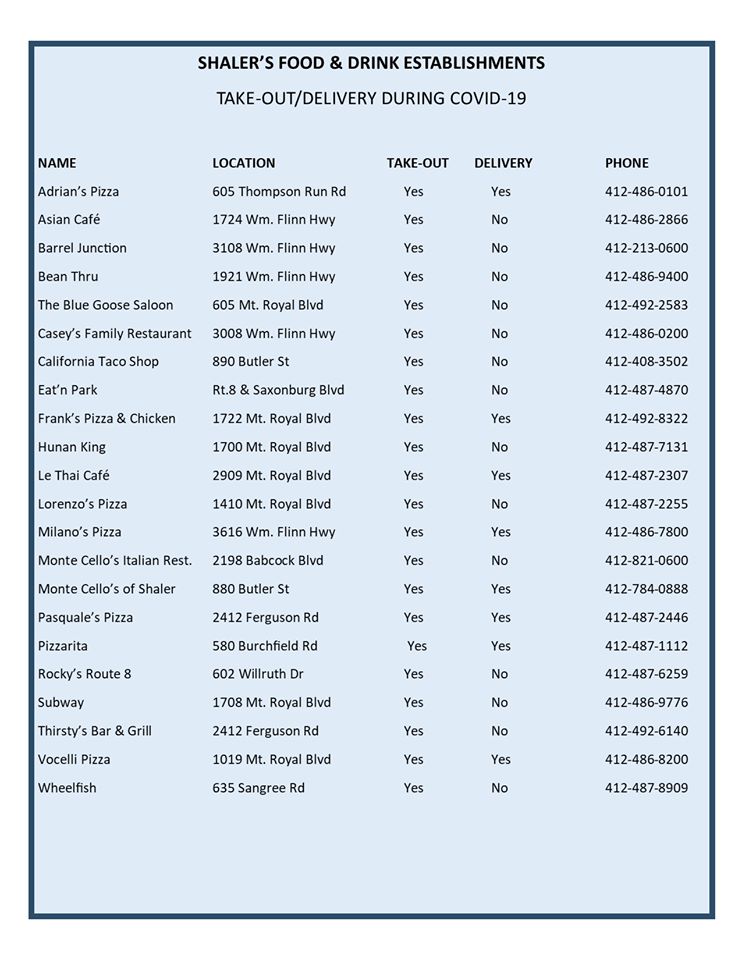 ---
Unemployment Information
PA Department of Labor and Industry: CLICK HERE
Census is Hiring CLICK HERE
---