February 21 at 7:00pm
Gary Jurysta is an abstract artist who works on both flat canvas, and sculptured, optical-color field explorations on curved canvas. He has been involved with the New York City and Pittsburgh art communities and has shown his work extensively. He has been exhibiting since 1962, and has works in both public and private collections, locally and nationally. He will be presenting images of his artwork and will be discussing his journey as an artist, his long career, and what continues to inspire him.
Thursday, February 28 at 7:00pm
Scott Davidson, will be presenting his photography exhibit "Chasing the Moon" an intimate look at the natural beauty of America's West.
Scott Davidson has pursued the art of photography with a passion since the early 1970's when he discovered the work of Paul Strand, Edward Weston and Ansel Adams. He studied with Oliver Gagliani in the late 1970's and early 1980's and has continued his exploration of the medium into the digital age. Though his work is eclectic in subject matter and technique, he believes that it is unified in its contemplative nature. His work is the reflection of his experiences of a life committed to the pursuit of photography as an art form.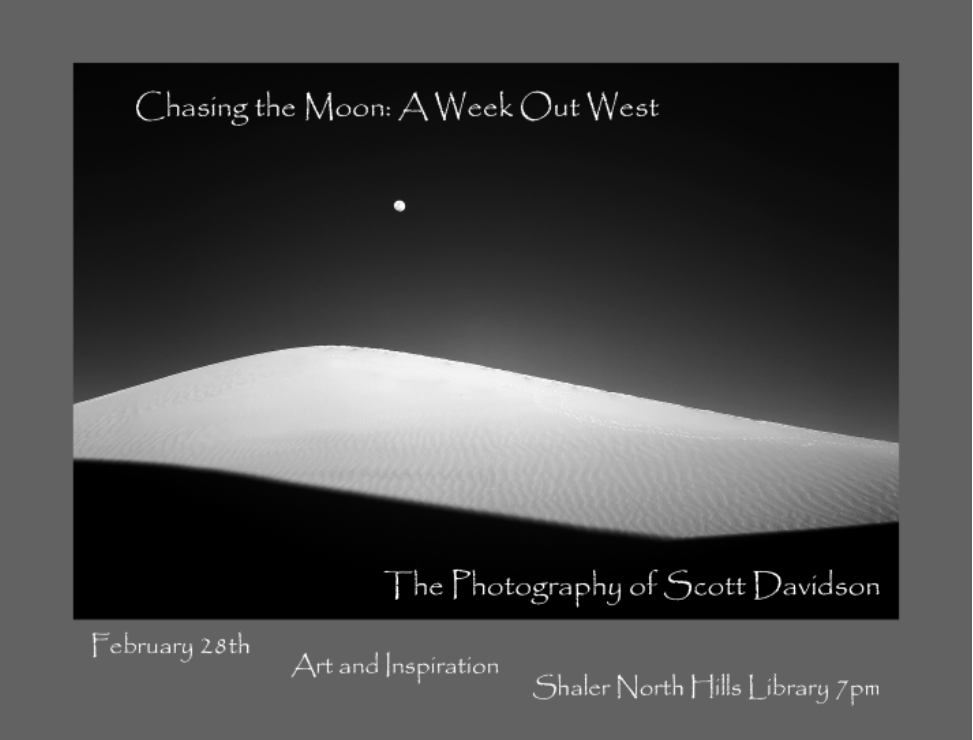 About Art and Inspiration International:
Join us each Thursday evening at 7:00pm for a gathering a creative minds and hearts. From sharing works to special guests, performances and presentations, there's something interesting each week. Drop by any Thursday. No registration required. Free and open to the public. Poetry workshop meets on the first Thursday of the month.