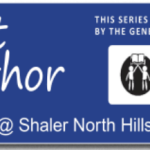 The Pittsburgh Marathon…a rural Pennsylvanian paramedic…a brew master and pub owner… Who knew such mysteries could be in our region?
Come and meet Annette Dashofy -author of the Zoe Chambers mystery series.  Joyce Tremel author of the Brewing Trouble series and J.J. Hensley author of Resolve, Measure Twice and Chalk's Outline.
All author visits are free and open to all who are interested.  Talk to the authors; books available for purchase and signing.
Please register by calling the library at 412-486-0211 or online via our website.